The first part of our stop in Tennessee was upgrading our trailer. As if picking up and moving across the country regularly isn't exciting enough, we decided to further complicate our lives by making the move from a flatbed to an enclosed trailer while out on the road. Why do it out on the road you ask? Well, if there was one large oversight in our preparations this was it. Thankfully, we found a trailer that fit our needs in stock and somehow orchestrated a swap at the campground in Windrock Park just before the holiday weekend.
Why UPGRADE OUR Trailer?
We spent months, and I do mean MONTHS, pouring over the details of this trip.  Can we afford it?  Where will we go?  What will we take? On and on.  One thing that stayed true was that the current trailer works, and it'll be fine for the trip.   Even after we added the motorcycle to our fleet, I was convinced we could make it work. (and part of me just didn't have the energy to go through researching and buying a new trailer)   It was 3 or 4 days before we departed that we finally had time to see how everything was going to fit on the trailer.   And it did fit, but just barely.  It was then we started talking about maybe needing/wanting a bigger trailer.
But, why an enclosed trailer?  Loading a 6,000 lb Jeep into an enclosed trailer is not the easiest thing.  It's not their typical use and as such most enclosed trailers aren't built to handle them.  Axles are too light, ceiling is too low, wheel wells are too close, ramp door isn't strong enough (still working on that one actually).  There's a myriad of obstacles to over come when searching available stock. (though ordering custom is certainly an option if you've got the 8-12 weeks to wait)
But what comes with an enclosed trailer is a sort of garage when parked.  A place to stash and secure stuff.  Out of the weather and away from prying eyes. A reason not to have to put the top or windows back on the Jeep for transport.  A place to keep the bike out of the weather.   For us, the conveniences that came with having this versatile enclosed space made more sense the more we talked about it. It was time to upgrade our trailer.
Finding the Unicorn
I spent a fair number of mornings at the beginning of the trip searching for a somewhat unique trailer.  I talked to a couple of dealers.  As much as I wanted to spend the money on a nice aluminum race trailer, our lack of income and planning for this said otherwise.  Even had one dealer respond "well that's just not going to happen" when I told him my budget. Lindsay found a shady looking trailer website, but low and behold they had what we needed … and more importantly it was listed within our budget!  Seemed almost to good to be true.  After talking with the salesman from the dealership, Trailer Country USA, it turned out that they were being sold factory direct from a trailer manufacturer, Diamond Cargo, in Georgia.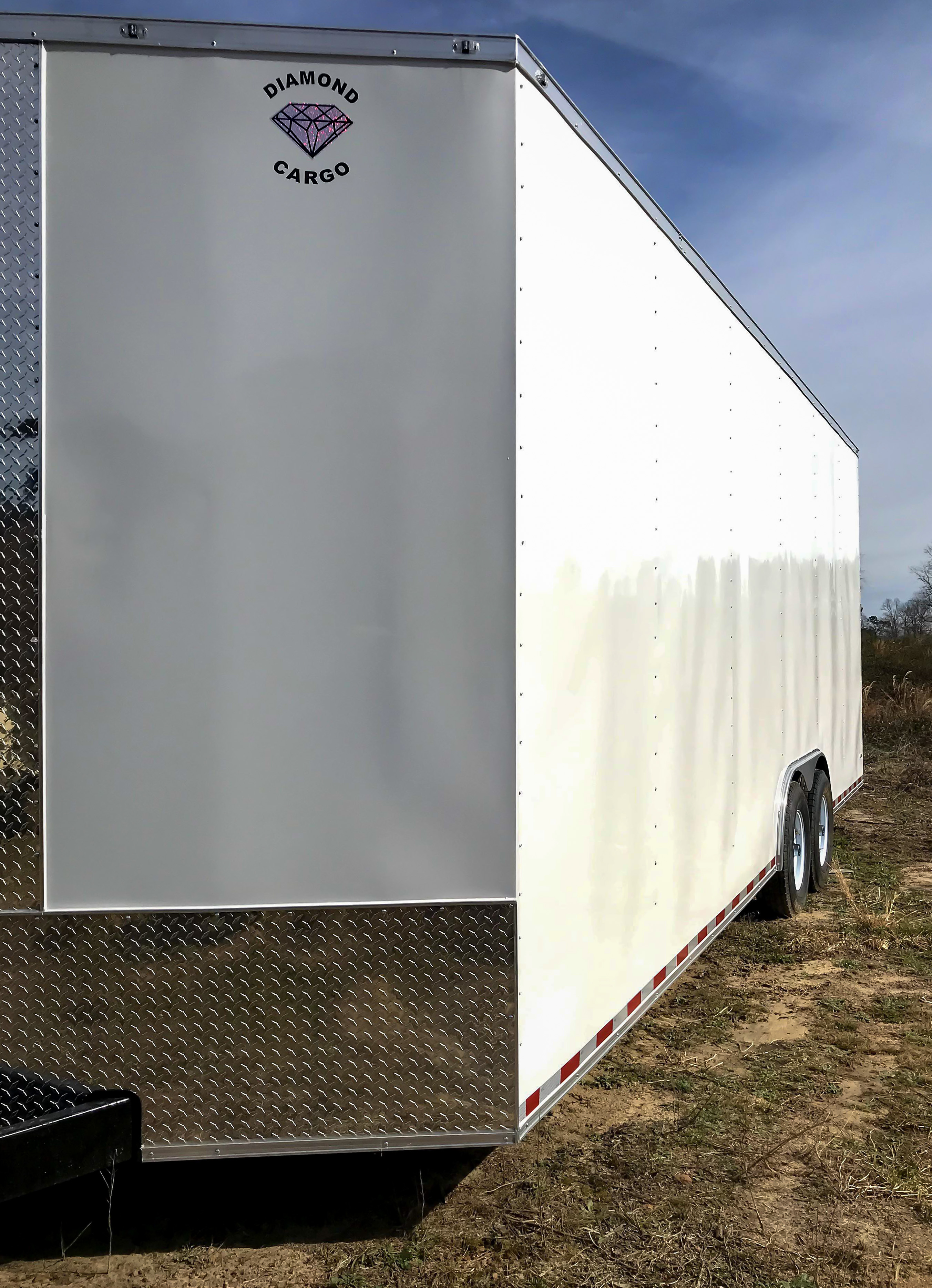 The whole model kind of makes sense in this day and age. Dealers don't need to carry stock, and can all sell from the same pool of trailers. No reason for large shops or big properties when everything can be done online. That's a lot of overhead cut out of the equation.
This was my kind of buying experience. The whole deal was worked 100% over email and they'd transport it directly from the factory in Douglas, GA wherever I wanted. Only hiccup was no trade-ins. Since they're not a typical dealer and don't carry inventory, they wouldn't take my current trailer as part of the sale. On the plus side though, they'd deliver the new trailer anywhere in the country we wanted … for a not so nominal fee.
Making the Swap
We targeted our stay at Windrock Park in Oliver Springs, TN since it was going to be the shortest delivery distance from the Factory. I put out some feelers on Facebook to gauge interest on the current trailer. Our friend Wayne agreed to drive down and buy the PJ flatbed while we were going to be there. That was a huge relief! Our plans to wheel Windrock were over the 4th of July holiday. So, we called the park and arranged to arrive a few days earlier to take care of the trailer business.
As soon as we arrived, we began unloading everything from the trailer and unbolting all my modifications. We got the trailer prepped for delivery and Wayne showed up shortly thereafter under cover of darkness to pickup his new PJ Buggy Hauler. We sat trailerless for a day (which is a scary feeling should something have gone wrong with the delivery of the new trailer). Finally, I received a call from the transport driver that he was a couple hours away.
Finally, time for a new trailer.
Delivery of the new trailer went mostly without issue. If you've ever been to Windrock you know that the road to the campground is STEEP. The biggest drawback so far to this new trailer is that its built pretty low to the ground. When the transport driver came up, the passenger rear corner of the trailer drug on the roadway causing some minor damage to the bottom of the trailer. Bummer to have happen on a new trailer, but easy enough to fix and add some bogeys to prevent in the future.
After delivery, we began putting everything back in the trailer. Installed a few new D-rings and chock for the motorcycle. Surprisingly the Jeep fits (with 0″ to spare) between the wheel wells. Plan is still to build ramp-overs to add some flexibility when loading/unloading as well as create more storage since I have the height to use.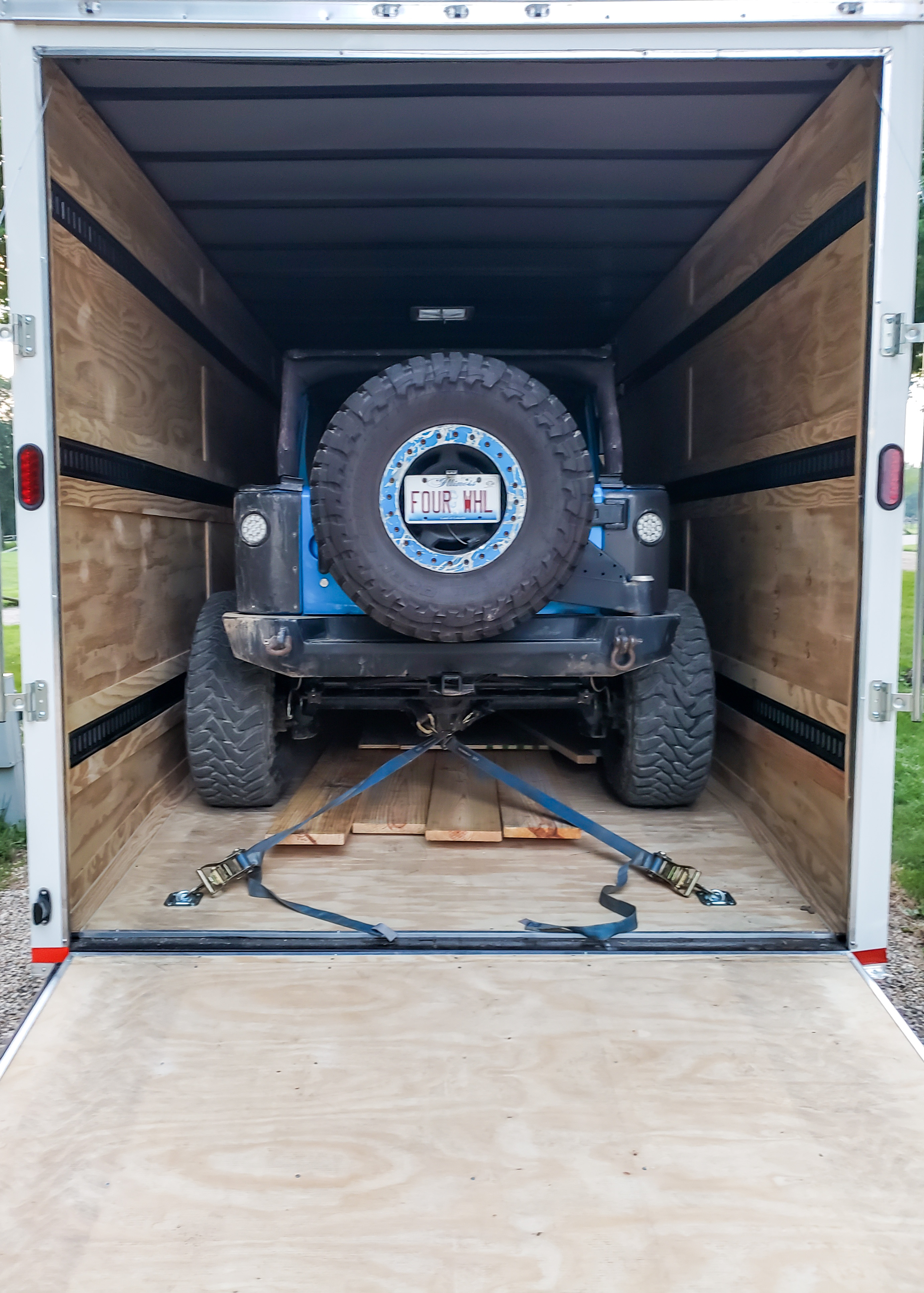 Details on the trailer
For those interested in the specifics of the trailer:
2019 Diamond Cargo 8.5′ x 24′ with 2′ V-Nose
8'6″ Interior height: 99″ (+24″ Above standard)

8'3″ rear ramp door opening height

7000lb Torsion Axles , ST235/80R 16″ tires

GVWR 14,000b
Payload 10,400lb

60″ Triple Tube Tongue
4500 lb capacity rear ramp door (Well this is what was quoted, I've got some reinforcement to do to keep from putting any more camber into it)
Width between wheel wells 84″
36″ Side Door w/ Flush Lock
6″ Tube Steel Main Frame