Our next stop brought us out to Delaware for the second Dynamax Owners Rally in as many years. We had an absolute blast with friends we'd made last year and new friends attending their first rally. While we were on the East coast, we had a couple of stops to spend some time with friends, get some service on the RV, and take in a few sights before moving on.
2019 Dynamax Owners Rally
Friendships that begin over the internet are always an interesting subject.  While social media has allowed people to be closer, and interact more often, than ever, it still seems that relationships that begin over the internet seem to take a backseat to those that began in person. 
Understandably so, right?
But it's amazing what happens when those people, who started as only screen names and pictures, get together in person. All that interaction gets validated when you can put a face and a personality to the screen name. Friendships blossom almost instantly because of the history shared over the internet. Now do it two years in a row and it becomes almost a reunion of sorts, a family reunion even.
A little history behind the Dynamax Rally
The Dynamax Rallies aren't an official rally or affiliated with Dynamax, Forest River or the Forest River Forum.  Rather, one dedicated member of the forum, Aaron (screen name "halla"), decided it would be neat to meet some fellow Dynamax owners.  Putting faces to the screen names we so often interact with.   I'm not sure anybody expected the interest level to be as high as it turned out, but Aaron had his work cut out for him.  It's hard not to credit him for how flawlessly the first rally was executed, since he basically organized it singlehandedly behind the scenes.  Talking to campgrounds to find room for us, talking to vendors and companies to sponsor signs and donations to the raffle, organizing and coordinating a moonshine distillery tour, and organizing an open house so we could all see each other's rigs.   The time and effort he put in is hard not to admire.  As the date grew closer and even during the event, members started to step up and add even more activities:  A hometown trading where people brought baskets from their origin, a last minute pot luck dinner where everyone amassed at a single campsite with a dish pieced together with whatever was lying around the RV.
The second time around, Aaron wised up and enlisted the help of some of his newfound friends to help spread the effort of organizing the various different aspects of the event.  What resulted was a weekend that, in my opinion, presented itself as a professionally run event. 
The Venue – Massey's Landing
This year's location was at Massey's Landing in Millsboro, DE. It's a campground I'd definitely recommend if you're ever in the area. The sites were roomy enough for all our toys, though we did need to put the trailer in an overflow area. The amenities are really what sets the resort apart. A very nice swimming pool with swim up bar and adults only section won Lindsay over from the get go. Frankly I didn't see her most afternoons between noon and 6 pm because that's where she hung out. There was also a beach area with tiki huts and a café for that coastal experience.
The event itself
The activities at the 2019 East Coast Dynamax Rally included:
Sunset boat cruise – The plan was to cruise out into the bay but it was so windy the day of the cruise it ended up as a river cruise.  Still, everyone had a great time catching up and enjoying the sunset.
Breakfast with the Dynamax Tech (and GM) – Dynamax has been fantastic in their support for these events.  Everyone gathered at a campsite for donuts and a Q&A session.  Greg, who performs and manages warranty service at the factory, and Brian, the General Manager of the Dynamax Plant, took turns answering any and all questions posed from the group of owners.
Hometown Trading – Nancy organized the hometown trading event where owners were paired up in a sort of secret santa scenario and exchanged baskets and small gifts that were representative of their home towns.
Convection Cooking Tips – Zoleta put together a summary of her experiences cooking with the convection oven/microwaves in many of our units.
Fire Protection System Demonstration – Chuck arranged for Proteng to come and provide a demonstration of their fire safety system.
Pot Luck Dinner – Jean and Tracy organized a little less impromptu pot luck.  The menu this year covered all the bases and we ended up with quite an impressive spread.  As usual everyone cooked for 20+ people and only ate for 1 or 2 so there was WAY too much food. 
RV Open House / Tour – I organized the open house this year.  We had about 20 rigs covering various years of production and all the Dynamax products.  Quite impressive really when you consider that there's no Dealer or RV show that will ever have that many rigs, especially older ones, available to show. 
Sponsor Support
Sponsorship this year was smaller and more focused, but just as important. The two main sponsors of the event this year were:
Performance RV – https://www.performancervsales.com/
Caliber 9 – https://caliber9.com/
The sponsorship from these companies helped provide for the name badges and signs supplied to all of the attendees.
Additionally, the continued support from Dynamax is unparalleled in the industry. Not only does Brian have a significant presence on the forum, but his attendance at the rallies and inclusion of Greg to help answer questions and fix issues went a long way to making a lot of happy campers. Greg spent the entire weekend repairing work orders for owners that had submitted requests prior to the event.
What's the big deal?
It's hard for me to really convey the excitement that comes with gathering this many Dynamaxes in one spot. It's a relatively niche brand and you don't really see many (or any most times) of them on the road. I can count on one hand the number of times we've passed one on the road in our travels. Until this trip I don't think we've ever shared a campground with one. With their eye catching paint jobs, getting a large group together at a campground is a sight to behold.
Beyond that though, the people that come along with these beautiful rigs are what I enjoy the most. Every one of them holds unique individuals with interesting stories. I'm finding more and more that as we travel I can't get enough of meeting new people on the road and swapping stories. With Dynamax owners is especially fun because we share a lot of similar tastes and opinion. After all its how we ended up with such a unique rig!
Where are all the pictures?
I learned an unfortunate lesson during this leg of the trip. Until now all my camera use has been either photo OR video but not both in the same shooting session. As part of my workflow after downloading my photos or footage to two locations I format my cards to clean them off for the next shoot. This is an easy and straightforward way to keep from duplicating footage and staying organized.
Well after I downloaded the footage for the rally to start editing I went about my normal routine of formatting the cards.  It wasn't until the following day that I realized I'd completely forgotten about all the pictures I'd taken.  OOPS!  There were some good photos too… dang it!
Alas, most of my focus for the event had been on video so that was at least safe.  A valuable, if not, painful lesson that I'm sure will save me in the future sometime.
A visit with Joe and a stop for Service
After the rally was over, we were fortunate to get invited back to a friend and fellow Dynamax owner, Joe's, house for a couple of days. We needed to get the transmission serviced and were able to get an appointment made at his local Freightliner dealership only 20 miles away.
A little boondocking next to the wheat fields and an absolutely amazing pool setup made for a relaxing couple of days.
Thanks again Joe and Kathy for all the hospitality!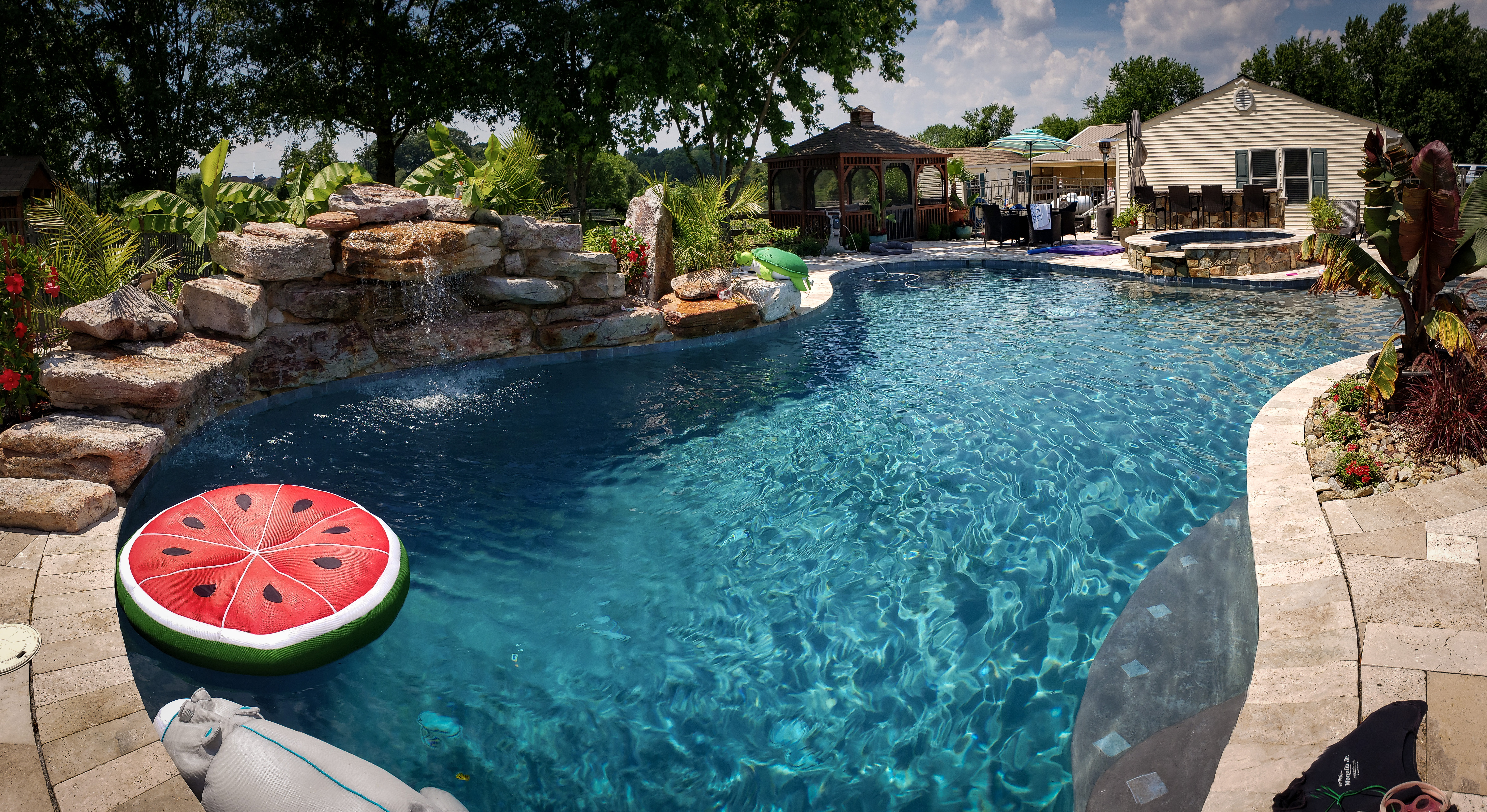 Washington, DC to see friends and the Monuments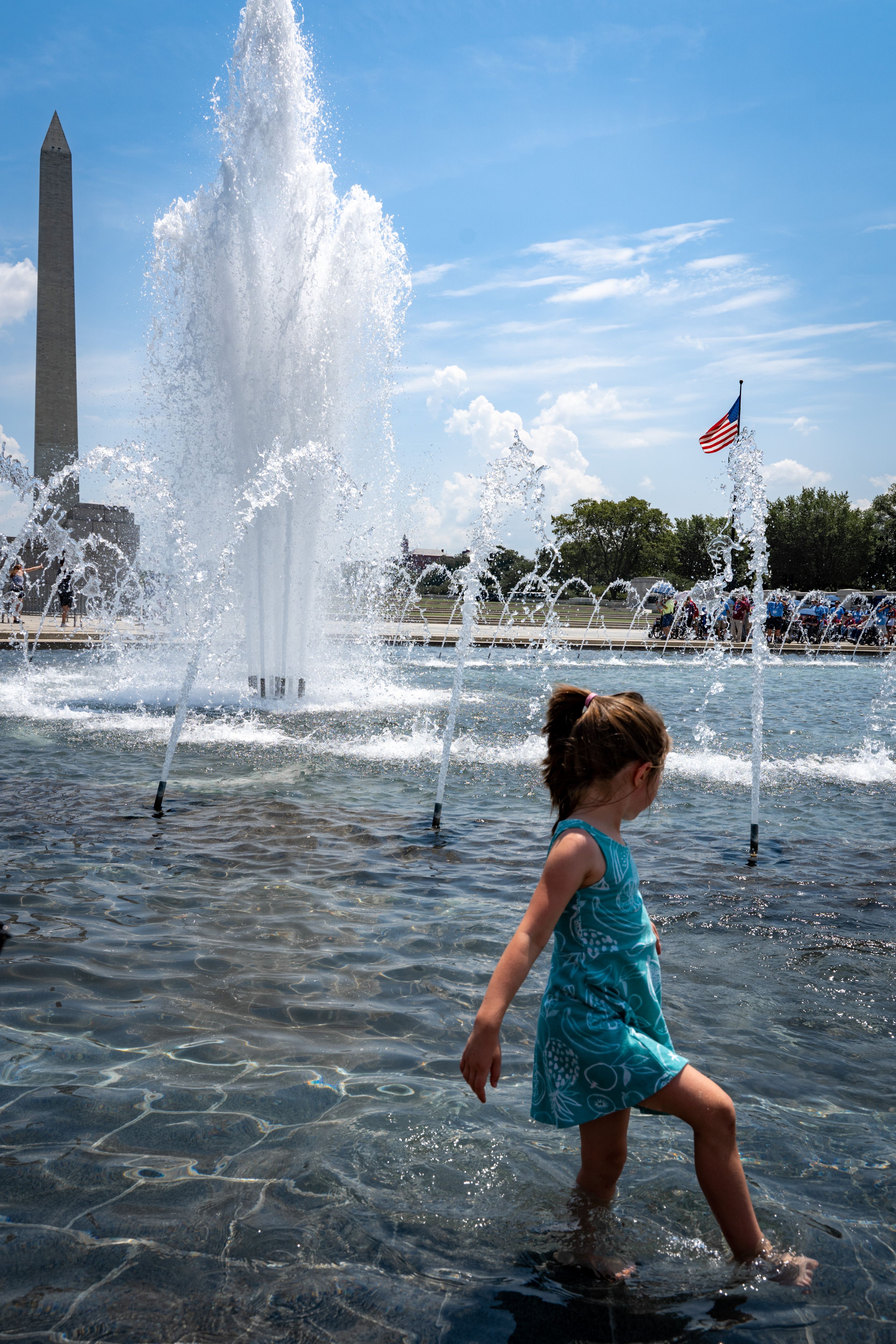 We spent the weekend in DC and were able to catch up with college friends David and Liz for brunch and a quick tour of the monuments.  Brunch was at Farmers & Distillers in downtown Washington. It was a great mix of lunch and breakfast (duh, I know Brunch!) and even better the kiddos ate free!
Summer had set in on DC and it was 95 degrees and HUMID so a mid day tour of the monuments proved strenuous to say the least.  We started at the Washington Monument and walked West. We made it to the World War 2 Memorial, Lincoln Memorial and Vietnam Memorial. The WW2 memorial was especially practical on such a hot day and a nice place to cool the feet. All in all we only made it a couple hours before calling it quits in the heat. Nonetheless it was great to see them and meet their girls. 
We determined it'd been 9 years since we've seen each other, which is way too long. 
We'll definitely work on that!